Interview
---
Hässliche Grüße aus Kalifornien. UGLY KID JOE erzählen uns über ihre Vergangenheit, Zukunft und das groovige neue Album. Hier das Interview im englischen Original mit Gitarrist Klaus Eichstadt:
For all the people out there who missed you in the 90`s could you please introduce UGLY KID JOE anno 2015 to us first of all?
UGLY KID JOE is a Hard rock band from Isla Vista, California that formed around 1990. We had two top ten worldwide hits: ´Everything about you´ and ´Cats in the cradle´. The band split in 1997 but reformed in 2011.
It's been quite a while since your legendary ´Everything about you´ hit the world and hit the charts. By the way I remember I was about 13 back then and already loved your tunes – and I remember my friend always covered some of your tunes with his cover band. How would you describe your sound in the new age of UGLY KID JOE what is still like in the 90`s and what has changed?
It's the same but different. Maybe a little bit more mature but not much.
I read in the media that 1995 you have had a budget of 600.000 US Dollar to record your album ´Menance To Sobriety´. So what has changed from 1995 to 2015. Am I allowed to ask you the following question? Now as the budgets not sit so lose do you sponsor all those things mostly on your own?

We covered the cost to make ´stairway to hell´ ourselves but the fans funded the recording of ´uglier than they used ta be´ through a pledge music campaign.
We save a lot of money by having our very own Dave Fortman produce and mix the new records.
Back in the days when you toured with Van Halen / Bon Jovi etc. when you opened for them how was the payment situation for those types of gigs?
I have no idea. Seriously. We just got on the tour bus whenever and went blindly.
In 1997 you disbanded UGLY KID JOE. But you weren't in conflict with each other; it was because all of you wanted to be creative in some other way. So from 1997 until 2010 which projects have you worked on/for?
Only one band that made a record: BROUGHAM.
Meanwhile you also released an EP called ´Stairway To Hell´ – you must be a huge Led Zeppelin fan, mustn't you? I really love the artwork Led Zeppelin style with your mascot which attended you since the beginning. Could you tell us a little bit more about the recordings and the song writing of this EP? Where did you record it and how long did you take from writing to releasing it? And who did most of the song writing?
We love AC/DC and Led Zeppelin!
We recorded half in Los Angeles with Sonny Mayo and the other half with Dave Fortman in Louisiana. It took a few weeks at each place. Dave mixed it. I wrote a few songs, Whit wrote some and Dave wrote ´no one survives´.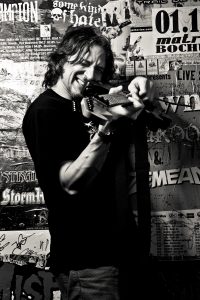 Your new album ´Uglier Than They Used Ta Be´ went on sale last month. So how were the fan reactions so far?
Fantastic.
Your personal thoughts on the cover versions you did for the new record are… please finish this sentence.
Very pleased, satisfied and honored … Dallas and Phil!!!
Last month you did an UK Tour. How were the fan reactions? Did they make you feel welcome? What was special touring the UK?

The fans were and are GREAT! We have a special connection with the British… Maybe it's the sense of humor? Humour?
Give us a little insight report on the production work and song writing for `Uglier Than They Used Ta Be´.

3 weeks – 12-14 hours a day – nonstop in the studio with Dave Fortman at the helm, no egos, all for one and one for all!
Can you remember which places you liked best when you were touring Germany?
Köln! Hamburg! München! Berlin! Das ganze Land!!!
While talking about concerts: Is there any warm-up rituals you do before entering the stage?
I stretch. Always. And put on my long socks, double tie my shoelaces, listen to ´geto boys´…
Please tell us where people get a hold of you?
My phone number is 976… uglykidjoe.net …. Facebook and Twitter
Are there any people in Rock n Roll which you don't get along well and which ones do you get along perfectly?
I love everybody in this life … Especially Ozzy, Motörhead, Van Halen… All the bands we toured with!
What is your opinion about the music business these days? Lots of things have changed… some good and some bad… what are your thoughts on this?
I like being able to buy a song in 3 seconds on iTunes. Too bad record stores are almost dead though.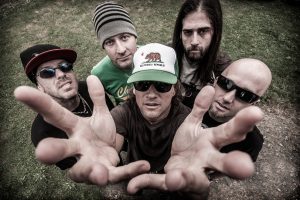 Which bands do you listen to in your spare time? And which ones do you listen to when you are driving your car? Does it vary from what you listen at home to what you are listening to into your car?
I listen to pop/rap on the radio at home and in my car. I kinda like the new Bieber song … laughs …
Last but not least the floor is yours. Please leave a message for all your German fans and our readers.
Hallo Deutschland!!! Wir hoffen, dass wir bald wieder in Ihr Land spielen. Es ist der Hammer! Bis dann, machs gut!
Thank you from the heart for the interview. I wish you all the best and hope to see you in Germany soon.
Take good care and keep up the good work, Susi.
---