Flipper will be touring the UK and Europe this Summer as a trio with Mike Watt (Minutemen, fIREHOSE, The Stooges) joining the founding members, Stephen DePace (drums) and Ted Falconi (guitar) as the bass-player and vocalist.
As noticed earlier, "Flipper will be out making new friends and rekindling old friendships with guest vocalists and musicians along the way." – comments Stephen DePace, drummer and co-founder of Flipper for Brooklyn Vegan.
For this summer tour, the founding members, Ted Falconi and Stephen DePace reached out to Mike Watt to invite him to join them marking the 43 anniversary of Flipper. Band's interactions with Mike Watt goes back to the 80's, when Flipper and Minutemen played their first show together, in San Francisco.
The trio will hit the UK first with a run of shows, then off to the European mainland to round out the 3-week tour period. In total, there will be 21 shows as planned at this time with Mike Watt. Along the way, Flipper will be announcing future shows with guest singers and musicians, as a part of Till the Wheels Fall Off" Flipper World Tour.
SUMMER DATES OF 'TILL THE WHEELS FALL OFF TOUR INCLUDE:
The UK:
28.07   UK – Salford @ The White Hotel
29.07   UK – Glasgow @ The Hug & Pint
30.07   UK – Newcastle Upon Tyne @ The Cluny
01.08   UK – Stoke On Trent @ The Underground
02.08   UK – Cardiff @ The Moon
03.08   UK – Portsmouth @ Wedgewood Rooms
04.08   UK – Huddersfield @ The Parish
05.08   UK – Liverpool @ Invisible Wind Factory Substation
06.08   UK – Bristol @ The Exchange
07.08   UK – London @ New Cross Inn
EUROPE: 
08.08   FRA – Le Havre @ Mc Daid´s
09.08   FRA – Paris @ Supersonic
11.08   ITA – Milan @ Circolo Magnolia
12.08   ITA – Verona @ Colorificio Kroen
13.08   ITA – Terni @ Anfiteatro Romano Baravai
14.08   ITA – Bologna @ Freak Out
16.08   AUT – Vienna @ Chelsea
17.08   GER – Munich @ Rote Sonne
18.08   GER – Karlsruhe @ Alte Hackerei
19.08   GER – Coesfeld @ Fabrik
20.08   NL – Rotterdam @ Baroeg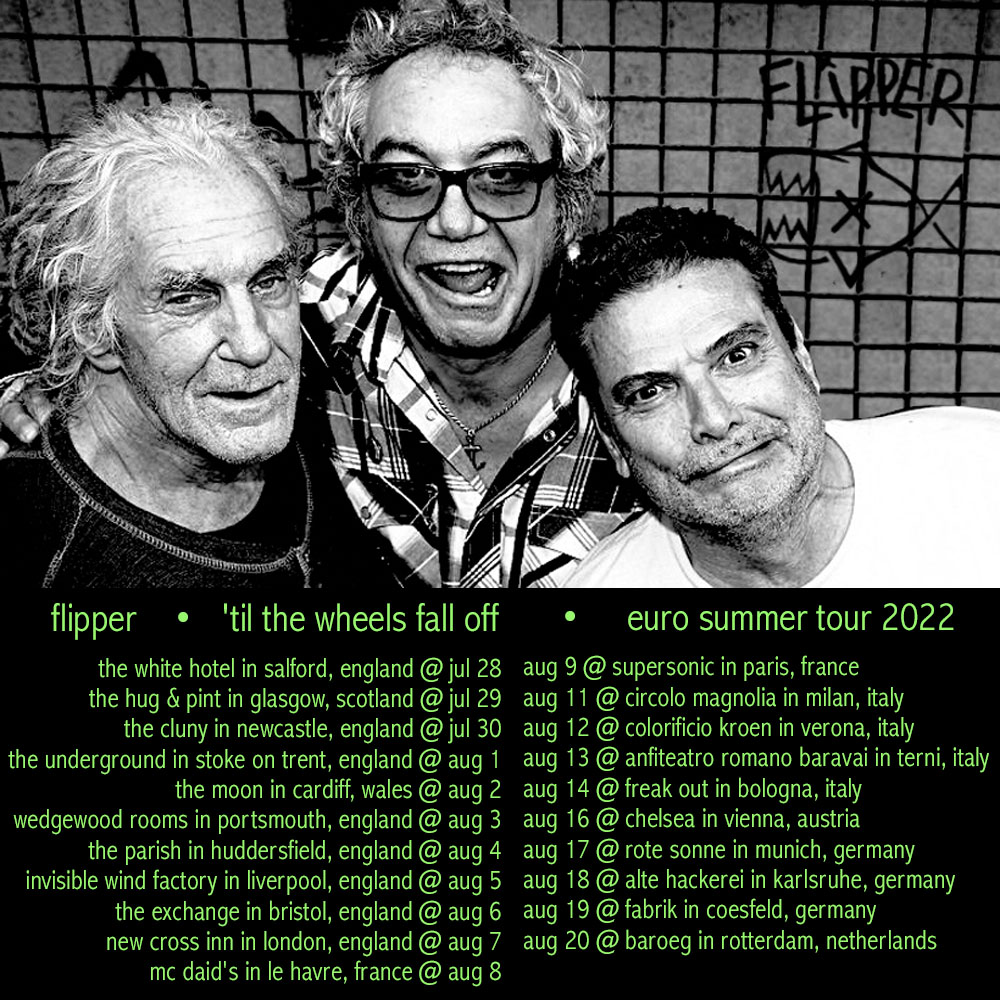 ---
Photo: Manfred Rahs
Ebenfalls lesenswert: