Interview mit Matt Barlow und Jonah Weingarten
---
WE ARE SENTINELS veröffentlichen in diesen Tagen ihr selbstbetiteltes Debütalbum (Review siehe hier). Hinter dem Projekt verbergen sich der frühere ICED EARTH-Frontmann Matt Barlow und Keyboarder Jonah Weingarten (PYRAMAZE). Das ausgefallene, musikalische Konzept ließ uns keine Ruhe, beide mit ein paar Fragen zu konfrontieren.
Jonah and Matt, how long have you known each other?
Jonah Weingarten: We have known each other since 2007 when Matt originally joined PYRAMAZE to sing on our third album ´Immortal´. This album was a true collaborative effort and resulted in the timeless ballad ´Legacy In a Rhyme´.
Matt Barlow: ´Immortal´ was a really great record to work on. It was really the first record I worked on that had a very strong keyboard presence throughout. So much melody!
Where did you meet for the first time?
Jonah: We met in person for the first time in Atlanta in 2016 for Prog Power USA when Matt joined PYRAMAZE on stage to sing three songs from ´Immortal´. It was a very special set that featured performances from all three of our singers.
Matt: That was an awesome time, for sure. I think that it definitely left the door open for Jonah and I to work together with WE ARE SENTINELS.
When did the idea, Jonah, mature for the compositions of WE ARE SENTINELS?
Jonah: From it's inception, I began composing material for the debut album somewhat blindly. I didn't really have a solidified idea in my mind of what our "finished product" or our "sound" was going to be per se, it just began to form as I went along. I just knew I wanted it to be cinematic, melodic, epic, and to provide Matt with a canvas with which to paint his full spectrum of dynamic vocals upon.
Is it a conscious separation of your previous musical paths?
Jonah: For me not so much actually. What I do in WE ARE SENTINELS isn't actually that much of a departure from what I contribute to PYRAMAZE and TERAMAZE. It´s a lot of keyboards, orchestration, and piano parts, but just arranged in a way to carry the full range of instrumental sections and frequencies.
Matt: It's somewhat different, but I always approach writing melodies by how the music moves me. The lyrical content for this record was also the same way. I don't always approach writing lyrics by listening to the music first, but with WE ARE SENTINELS I let Jonah's compositions be my muse.
But you did not want to record the album with a band … from the beginning?
Jonah: This is true! It was actually Matt's idea to do something this outside of the box so full credit goes to him. I was in love with the idea of having full creative control over the instrumentation to be honest, or "less cooks in the kitchen" as it were. Something way more self-contained from the start and relying on as few outside sources as possible.
Matt: Yes, it's all my fault that there are unemployed guitar players and drummers. Haha! Seriously though, we just wanted to keep this very streamlined. It just made sense for what we were attempting to do.
So this time you need no guitar, bass and drums…?
Jonah: Not only this time, but not in the foreseeable future. WE ARE SENTINELS is not Metal, it is an orchestral film score project. I think it's been difficult for some people to accept because of mine and Matt's rich history in the Metal world.
Matt: Yes, this is somewhat experimental for us, but we do not want to deviate too much from the original idea. We love how the first record was done and we want to keep that train rolling.
Jonah, did you compose all Songs on the Piano?
Jonah: Not all, but some. I generally come up with some of the main melodies at home on the piano and keyboard and then develop them much further in the studio. I don´t really have a set way of doing my composing because thats how I keep from going stale.
Did you have a classical piano education?
Jonah: No, I'm 100% self taught. I always just wanted to do my own thing and follow my heart. I let my soul be the guide and lead me through life. Not being able to read and write notation on paper hasn't hindered me yet.
Are your inspirations coming only from Soundtracks and fantasy movies?
Jonah: While those make up many of my influences, I also really enjoy classical music, modern classical piano, baroque era concertos, New Age music, etc.
Matt: Almost none, actually. Though I do love them, there usually aren't too many with lyric and vocal melodies. Unless we're talking about Disney stuff.
And what inspired you lyrically?
Matt: I just caught vibes from the music and let it roll. My kids inspired me a bit for the Winter Trilogy to be sure, but I just let the music take me to where I needed to go.
Matt, your chanting is amazing. What did you hear in advance of the recordings: some old ICED EARTH-albums or some opera singer?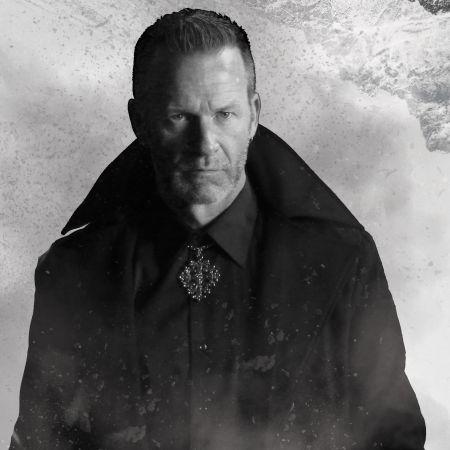 Matt: None of the above. Haha!  I just let it rip, man!!
Will we see you live on stage with WE ARE SENTINELS?
Jonah: Our first show, which is more of a warmup is actually this Saturday. We are getting our feelers out to see how this will manifest itself on stage.
Matt: Crossing fingers…wink, wink.
Will you go on working with this Project and do you have the dream to record someday with a real orchestra?
Jonah: We absolutely will! Plans are already underway to incorporate live session strings on the next album, as well as some live choirs. The only way to grow is to push the envelope!
Matt: Definitely would love to see this grow bigger and better. Time will tell, but we see great things coming our way!