Interview mit Bandboss Kevin Riddles
---
Schlappe 32 Jahre nach dem NWoBHM-Klassiker 'Rough Justice' haben die reformierten TYTAN aus London mit 'Justice: Served' ein starkes Zweitwerk nachgelegt. Anlass genug, um uns vom unverwüstlichen Bandgründer und Mastermind Kevin 'Skids' Riddles auf den Stand der Dinge im Hause TYTAN bringen zu lassen.
Hier das Interview im englischen Original-Wortlaut:
Hello Kevin, 'Justice: Served!' is finally released. How are the reactions so far?
The reactions so far have been unbelievably good with people from all over the world giving fantastic reviews, and giving the album a "fair and just" listen.
The axeman on the cover artwork looks like he hasn't aged over the last 32 years. Random or intentional?
Absolutely intentional. Of course an avenging executioner will always be ageless… The artwork was done by our good friend Jaisen Purmanen.
But why is his face expression so grim then? I mean … he's sitting on the throne!
He has meted out justice, which can be exhausting (lol)
You reformed the band for 'Keep it True' 2012 – am I right?
Yes, it was going to be a one off show, that went so well with so many people getting new interest in the band, we just kinda carried on.
Can you talk us through the decades since 'Rough Justice'? Which projects were the most important for you? And what are your main activities besides the music?
Well, I spent most of the eighties working with Paul Samson and playing sessions etc. I also tour managed various bands, including Rock Goddess, Roots, Bilal and played football for Def Leppard FC. The nineties were mainly spent earning a living, getting married, getting divorced and caring for friends and family. The noughties were spent caring for my father, meeting the love of my life and then marrying her.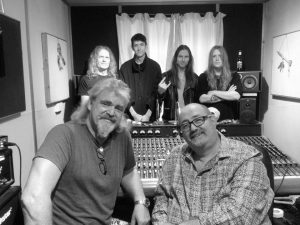 Was the breakup of the band in 1983 inevitable? Do you regret anything?
It was inevitable once the record company disappeared. It was impossible to keep the band together with so many talented people.
When did you conceive the plan to write another TYTAN album?
Musicians are always writing songs, that never stops, so 'Justice: Served!' is a collection of the best written over the last 20 years or so. It's not possible to write unless its from the heart and with passion for the subject.
If you compare the working process of 'Justice: Served!' to that of the first record – are there more similarities or differences?
The main difference is time, because recording time is still hugely expensive and as the album was financed by High Roller Records so budgets were very tight, so the album was recorded very quickly.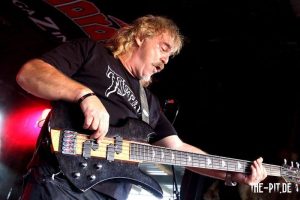 How much did the other band members contribute to the new album?
Three of the songs were written and performed by other people in the band 'Midnight Sun': Tom Barna –  'Spitfire': Dave Strange –  'Worthy of Honour': all by myself. The rest of the album was written by myself and the band.
"Metal Archives" sum up your lyrical themes as "money, love and girls". What do you think about that?
Metal Archives missed out politics and war … other than that, quite accurate (lol)
I guess ´Worthy Of Honour´ is the most personal song for you on the new record. You're singing it on your own – what can you tell us about its background?
It's a song originally written as a poem for my bride which I was too emotional to read to her at our wedding, so I put it to music and it's now a love song.
You were a part of the legendary new wave of british heavy metal with Angel Witch, Tytan and also Samson in '86. Is the spirit of the old days still perceptible with all the young guys in the band now? Or do you rather feel like their grandpa telling stories from the war?
A little of both … but at least I was there and I'm still here, haha!
What are your plans with ´Justice:Served´? Can we expect some German dates too?
We are playing 'Trveheim Festival' on Sat August 26th and working on other dates yet to be revealed as part of the ´Autum Justice Served´-tour.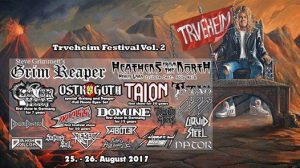 And how are the chances for a Justice trilogy?
Very good … as I have new songs waiting, new themes about idiot british politicians I need to write about!
Thank you very much, Kevin, and good luck with further ventures!
Thank you so much for your interest and continued support and hope your readers will enjoy both 'Justice: Served!' and the live shows that TYTAN will be performing throughout the year. Much love and thanks!
---