~ Interview with Mr. Frankenshred ~
---
After a ten years of silence, FRANKENSHRED have a new record out, so we asked Mr. Frankenshred himself about the past few years and the new album:
Mr. Frankenshred, since you are also an active member of other groups, I would be interested if there are also news from EXILED or other formations in which you are active?
Yes, I am also a full time member in the US Power Metal-Bands EXILED and COMMANDMENT, both with releases coming out in 2020.
The fifth album by FRANKENSHRED is still very hot right now. Why did it take ten years to deliver a new album?
Well, unfortunately the lineup disbanded right after FRANKENSHRED's ´Cauldron Of Evil´ was released… In 2011-2012 both FRANKENSHRED instrumental releases (self titled and ´Evil Shred´) were reissued with bonus tracks.
Around 2015, the new FRANKENSHRED-lineup was secure and continues today with our current release ´Electric Axe Attack´. We are currently tracking the follow up already … no more long gaps. 😀
Also in 2016, I started working with the band EXILED for the 2018 ´Ghost In The Winter´-release on "Killer Metal Records" which led to the signing of FRANKENSHRED on "Killer Metal Records".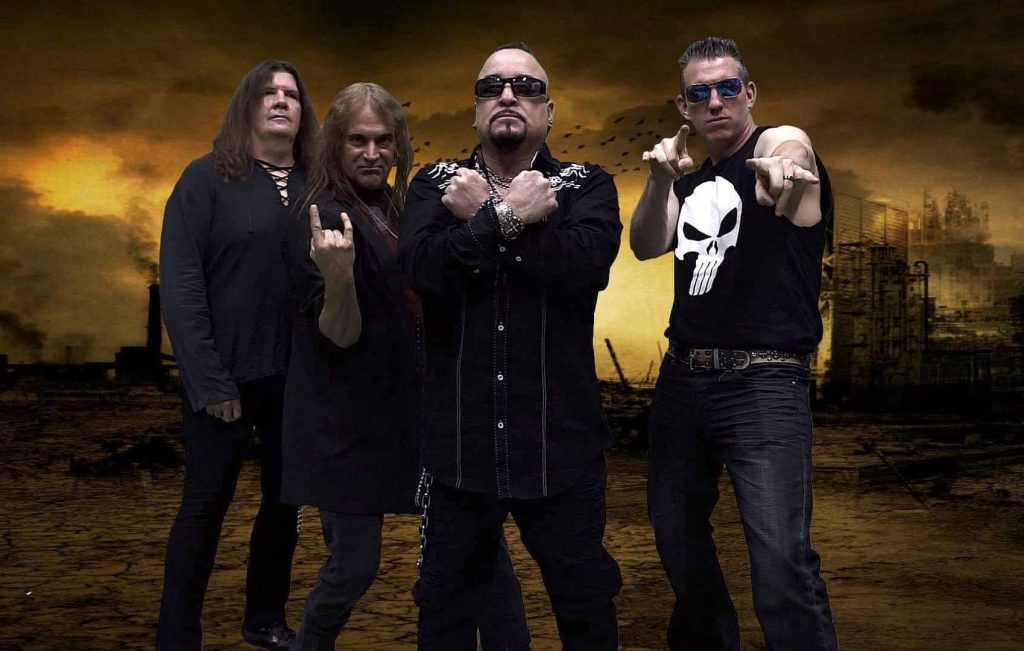 When did you get new ideas, or even the idea to start writing a new album?
I´m always writing songs, so I have a large stock pile… I´m already writing for 2021. The hard part is finding the right musicians and record label.
How did the new songs come about, how do you write them, all together with the other band members, or alone?
For FRANKENSHRED I bring in the framework to a song and lyrics to rehearsal … and the band works it out; then we decide whether its a keeper or not.
In EXILED I write a ton of riffs for singer John Cason to write, too… He picks what he likes, and the band works it out from there; goes on from there.
That seems to work for each project, so yes, we usually start with that direction in writing.
Please let us know about the early days of the band in 1996?
Yes, couldn't find a singer and shredding lead guitar wasn't cool. 😀
At the time I had just left a hired gun project, and wanted a project with no restrictions, so we started working on instrumental songs that featured different members of the band. Then: add my interest in B-Horror-movies, today you have "Walking Dead"…back then you had "Evil Dead".
Anyhow Frankenstein created his monster with body parts… FRANKENSHRED created its musical monster with musical parts!
Was it very different from 2020, the music business, and the world in general?
Yes, wow, it´s cool to play lead guitar again… 😀 … A lot of young bands playing classic metal style, but $ wise it's tough today…1 million plays to make $400.00 on YouTube … same with the other streaming companies … killing the artist from the music they don't own.
Our merch-company has FRANKENSHRED socks … I guess I´m selling those now…put out records and sell socks, oh, yeah !!
Which decade do you like best in your life so far: the 80s, the 90s, or today?
I had lots of fun and played a lot of guitar through those decades…..but playing the best and know more about the business today.
What kind of music did you like to listen to as a teenager?
I would say RUSH, AC/DC, VAN HALEN, JUDAS PRIEST and IRON MAIDEN.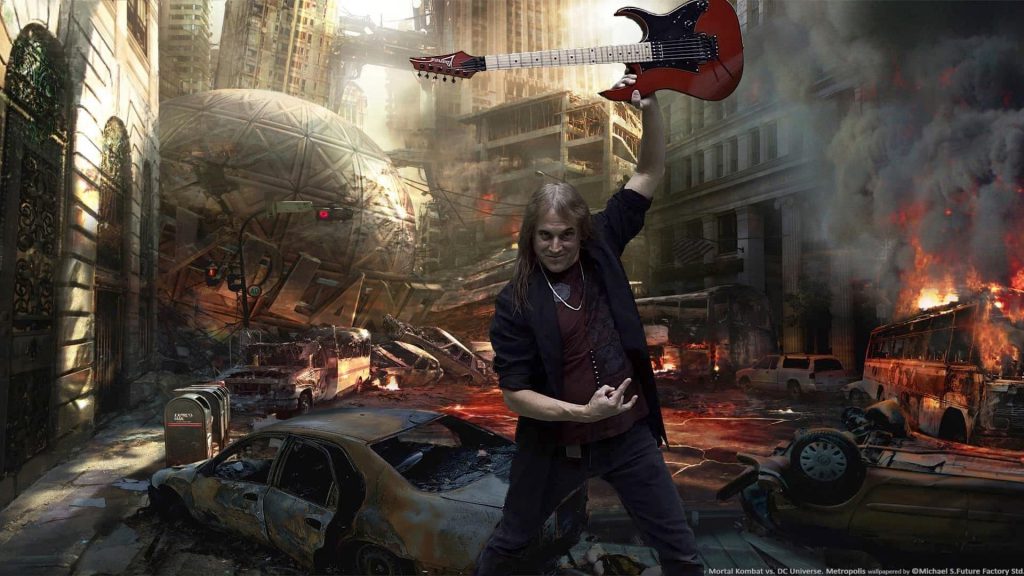 Is this also the kind of music that you later wrote yourself?
Yes, I think it had an important early impact on me.
Do you still have personal idols today?
Well, yes, I´m a fan both of music and great musicians… Every once in a while, I find someone new or a band that I like, and I have some old favorites, too.
Over the years, the band members have changed various times. How did this happen?
Well, it´s hard to keep a line-up … People don't realize how long it takes or how much work it is to make a successful band… Everyone wants instant success.
Do you practice guitar everyday?
Yes, I practice every day… I enjoy practicing and playing… The better I get, the more fun I have.
I think you have to enjoy practicing to reach the level you want.
What are the plans: live performances and other albums?
New FRANKENSHRED and EXILED releases for 2020, EXILED has 2 shows coming up, opening for ROSS THE BOSS and FLOTSAM & JETSAM.
FRANKENSHRED has opened for METAL CHURCH, GRAVE DIGGER, George Lynch, Michael Angelo, Uli Jon Roth, RAVEN, BUCKETHEAD…and more shows are in the works.